Containers for Change♻️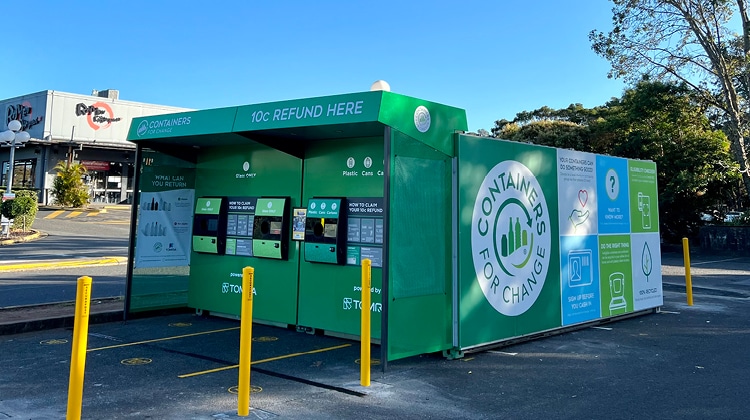 Get cash for your cans. The new state of the art TOMRA Reverse Vending Machine is your local hub for returning your eligible containers. Open 363 days, including most public holidays and for 14 hours a day – you can recycle at a time that's best for you.
The TOMRA Reverse Vending Machines are located via the McCullough Street entrance, behind 'Ramen Champion' and opposite the Market Square Shopping Mall.
The self-serve Reverse Vending Machines (RVMs) can take up to 100 containers per minute and are easy to use. You can get your refund as a retail cash voucher, digitally through the Containers for Change scheme ID, or you can donate it to a charity of your choosing.
Cash Vouchers
Cash Vouchers are available from Reverse Vending Machines (RVM) and are claimable for either cash or discounts at any Woolworths including the Woolworths here at Sunny Park Shopping Village. To collect a retail voucher for your returns, simply put your containers through the Reverse Vending Machine and press the "Voucher" button to collect – no sign-up necessary.
Digital Refund
Receiving your refund digitally into your bank or PayPal account is easy. Sign up for a scheme ID from the Containers for Change website here (link to https://member.containersforchange.com.au/?scheme=qld) , and select your preferred payout method. Once you have signed up, you will receive your scheme ID barcode, which you can save to your wallet or use within the Containers for Change QLD app –(link to this) https://www.containersforchange.com.au/qld/app
How digital payments works:
♻️Scan your barcode at the Reverse Vending Machine before you start your session. The scanner is on bottom-right of an RVM.
♻️Insert your containers
♻️Select Payout on the screen when you're done – you will get your refund within 1 business day.
Charity Donation
To donate to a charity, simply download the Containers for Change app, search for a charity of your choice and add their scheme ID barcode to your app board.
Scan their barcode at the RVM and the refund will go directly to the charity.
For more information on the TOMRA RVM and its operating hours visit: Containers for Change Sunny Park -TOMRA Reverse Vending Machine (mytomra.com.au)
Please note: TOMRA asks all of their customers to comply with the public health orders, including social distancing.