HELP FOODBANK FEED FAMILIES!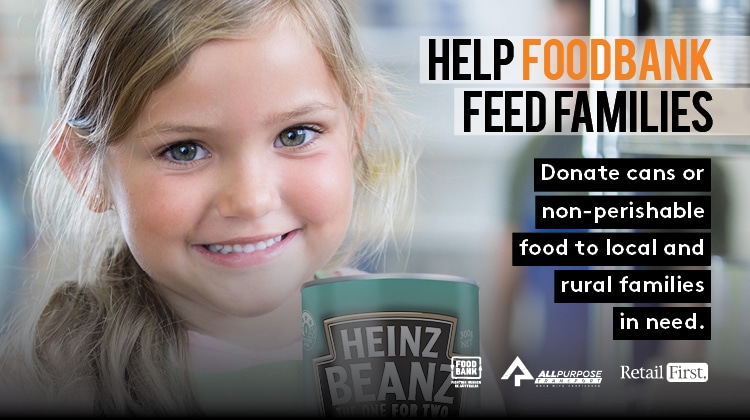 For the eleventh year running, Retail First has teamed up with All Purpose Transport to raise 40 tonnes of food donations, and to assist with Foodbank's increased demand for food assistance over the Christmas season.
Every week in Queensland 100,000 people rely on food aid from Foodbank Queensland, with a third of those being children.  Around Australia about 40% of the food distributed via Foodbank is delivered to those in need in rural and regional areas, and the demand from these areas is increasing with the ongoing effects of the drought felt here in Queensland.
HOW CAN YOU HELP
From now until Christmas, a donation box will be outside Woolworths. By simply donating  a couple of cans, a bag of pasta or a box of cereal – any non-perishable food item, you will be helping a family in need this Christmas.
A little bit goes a long way for those families in need.
All Purpose Transport will regularly collect and deliver these donations, and Foodbank will distribute them to more than 300 charity and welfare organisations in Queensland to provide to those who need it the most.
2019 GOAL: 40 tonne
For more information visit https://www.foodbank.org.au/