Sunny Park Redevelopment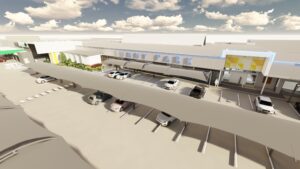 We are excited to announce that refurbishment works are underway at Sunny Park Shopping Centre! These works will include new travellator access, new basement amenities, an upgraded façade and internal expansion of Woolworths. Thanks for your patience while changes are underway.
Schedule of Works
KLS Legal and Medical Centre External Entries Closed
The external entries to KLS Legal and Sunny Park Medical Centre will be closed from Wednesday 30 August 2023. Access to these services will be via the Main Mall.
Northern Entrance Access (near Woolworths)
Temporary fencing will be installed in the Northern Car Park and in front of the mall entry from Monday 4 September 2023. All traffic will be redirected to access the centre. Best parking will be in the underground car park.
Woolworths Direct to Boot Closed
Effective Monday 4 September 2023 the Woolworths Direct to Boot service will not be available. Woolworths Click and Collect pick up service is still available.
ATM Relocation 
The ATM previously located at the Woolworths entry is now located in the Main Mall near Fresco.
Frequently Asked Questions
Will Sunny Park be closed at any point during the redevelopment?
Sunny Park will be open as usual during the redevelopment works. Temporary fencing will be installed to re-direct traffic and pedestrians during the refurbishment.
Will Sunny Park car park spaces be reduced?
The centre footprint will not be changing, so the number of car park spaces upon completion will be very similar.

When will the works be complete? 
The works are scheduled to be complete January 2025.
Thanks for your patience while changes are underway at our centre!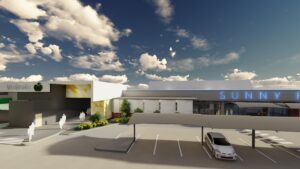 *Artist impressions only. Subject to change.